LoveTree is organically farmed with 100 acres devoted to grazing lands and 100 acres devoted to wildlife habitat. This not only makes for a healthy environment ecologically speaking, but it also offers us some unique opportunities for flavor enhancement of our cheeses.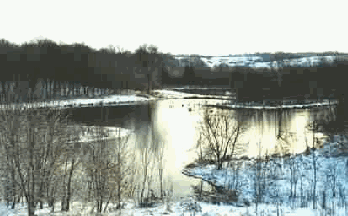 Our fresh air aging cave overlooks one of our five acre ponds where it siphons in the multitude of different pollens which contributes to the flavor development of our cheeses. Every morning the heavy "toolie fog" gently seeps into our "cave" bringing with it all the wet and spicy, sweet flavors of the north woods...wild lilacs, evergreens, mustard grass, violets, the clovers, sweet milkweed, and many others.
Our goal at LoveTree is to be able to exist in a harmonious nature with our environment through proper stewardship of the land and our livestock. We have been farming in this manner since 1986, and we feel that it benefits not just our immediate family, but the local community as well. We hope that we can continue to bring you cheeses that reflect this lifestyle for many more years, and perhaps generations, to come.